F. Ali
Syed Yahya Shah Al-Hussaini, a noted religious scholar, political leader, social reformer, nature conservationist, folklorist and award-winning writer passed away in Gilgit on Sunday, (April 11, 2021) at the age of 85 after a brief illness.
He was elected a member of the Gilgit–Baltistan Advisory Council after the abolition of Nagar State in 1975. He was re-elected a member of the Gilgit-Baltistan Legislative Council in 2009.
Born in Minapin, Nagar, in 1936, he received his early education at Nomal and moved to Gilgit for secondary education. He also attended schools in Astor and Kashmir.
He moved on to Khyber-Pakhtunkhwa for higher education and received a bachelor's degree from Edwards College Peshawar. He started teaching at High School No 1, Gilgit.
Pioneer conservationist
Syed Yahya, also known as Agha Yahya, was a pioneer in biodiversity conservation in Gilgit-Baltistan. He mobilized local people and introduced an alternative community-managed conservation programme in Nagar which was replicated by other communities of Gilgit-Baltistan.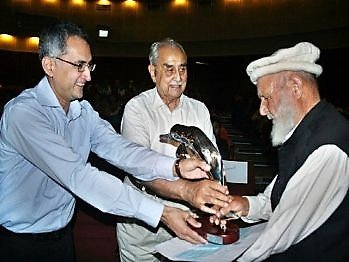 In 1989, he drafted and [presented a unique conservation trophy hunting programme to the government and IUCN. He proposed that the Bar Valley community should receive special government dispensation to open their valley to commercial trophy hunting by using the proceeds towards wildlife conservation and community development. It helped the Siberian ibex in the Bar Valley to thrive as well as create a substantial source of livelihood for the local people.
He also launched an awareness campaign among the local people about the conservation of endangered animals and saved several snow leopards in Nagar from poaching and retributory killing.
Shah received awards including the 'Quaid-e-Azam Award' from The Aga Khan Rural Support Programme, 'Syed Asad Ali Shah Living Planet Conservation Award' from WWF in 2011 for his exceptional contribution to biodiversity conservation and working tirelessly for the promotion of sustainable use of natural resources in Nagar with great success.
Social activist
Agha sb also worked on various charity projects for the social and educational well-being and development in his native valley.
He initiated a project connecting a warm spring in Diater Mountains in Bar Valley in collaboration with WWF providing hot spring water to homes which not only saved forest and trees from using as fuel but also helped decrease lungs and respiratory diseases like pneumonia and other respiratory infections prevalent in women due to washing clothes in cold water.
In Minapin village he motivated Aga Khan Rural Support Programme to initiate a project which restored a deserted mountain called Khaidar where the canal irrigating to the pastures and agricultural fields at this mountain was cut off from the source of water due to glacier recession.
He led the community to install a pipeline which reconnected broken channel after 150 years of desertification.
Syed Yahya Shah also contributed to a documentation of customary laws in nature conservation in Gilgit-Baltistan, initiated by IUCN and the government.
He also actively played a role in making Hunza–Nagar a district and later made two separate districts.
Literary works
He authored a number of books including 'Burushaal Ke Qabail (tribes of Burushal), 'Touzeehul Wasail, 'Burushaal', Gilgit-Baltistan Ke Namwar Khawateen (prominent women of Gilgit-Baltistan).