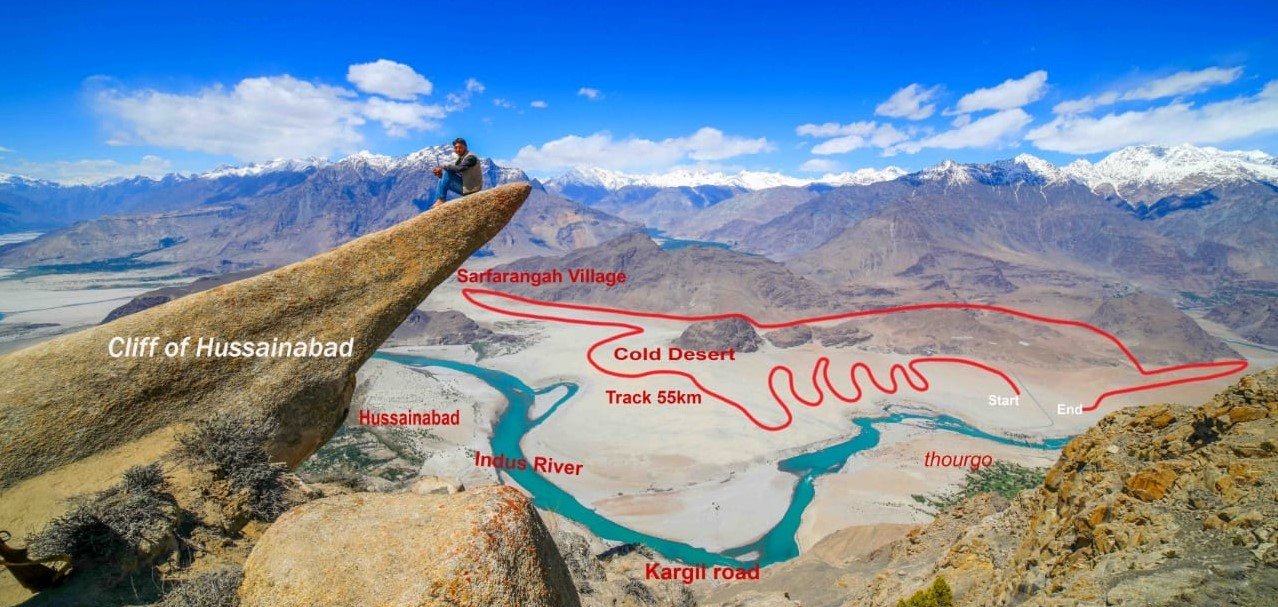 A view of the track of the rally from the hanging brock at Hussainabad
Four women among 70 drivers and 40 bikers participating in the rally; track extended from 45 to 55km
Farman Baltistani
SKARDU: The third edition of Sarfa Ranga Cold Desert rally started at Baltistan's Shigar district on Saturday.
Four women are among the 70 drivers and 40 motorcyclists who are participating in the contest and demonstrating their driving skills.
Noted national and local car racers including defending champion Babar Khan Achakzai, Nadir Magsi and Sahibzada Sultan are participating in the rally.
Pakistan People's Party chairperson Bilawal Bhutto-Zardari was among the prominent guests who witnessed the opening round of the rally. Later, he left for Ghanche District to attend his party's workers convention scheduled at Khaplu, headquarter of the Ghanche district later in the day.
A good number of spectators, enthusiasts and tourists from other cities and foreign countries have thronged the region to enjoy the event.
Gilgit-Baltistan's senior minister Haji Akbar Taban while addressing the opening ceremony welcomed the participants of the rally and others.
He spoke about the history, geographical and cultural importance of Baltistan which is famous in the world because of its lofty mountains, glaciers and highest plane Deosai. The people are peace loving, hospitable and friendly, he noted.
He invited other national and international tourists to participate in the event not only to enjoy the rally, but to see nature, adventure and culture of the area.
He lauded Gilgit-Baltistan administration and PakWheel for arranging the mega event.
Earlier, GB's tourism secretary Asifullah said, for the last three years Sarfa Ranga cold desert rally has become the second largest competition after Cholistan desert rally in Pakistan. Its gaining popularity year after year.
He said, this year the rally has been dedicated to the people of Indian-occupied Kashmir to express solidarity with them.
"In this regards, banners has been displayed at various places inscribed with slogans in favour of Kashmiri brothers and sisters and against Indian tyranny and atrocities," Asifullah said.
He further noted that this year the track of rally has been extended from 40 to 55 kilometers.
He explained about the other salient features of the three-day event including a polo match, zakh (rafting) competition, paragliding, tent pegging, local cousins, arts and craft exhibition and a musical show.
Whereas the final round of the rally will be held on Sunday.
The Sarfa Ranga desert is the highest and coldest desert in the world surrounded by the famous Indus River, snow caped lofty mountains, and green valleys.
---
Framan Baltistani is a Skardu-based reporter and High Asia Herald Correspondent