ISLAMABAD: The snow covered mountains of Murree are not only showcasing beautiful scenery of snow nowadays, but have also become a point of attraction for tourists from all over Pakistan.
A huge number of tourists all across the country especially from Punjab visited Snow covered Malka-e-Kohsar, Murree on the weekend to enjoy the mesmerising spell of snowfall at its beautiful hills.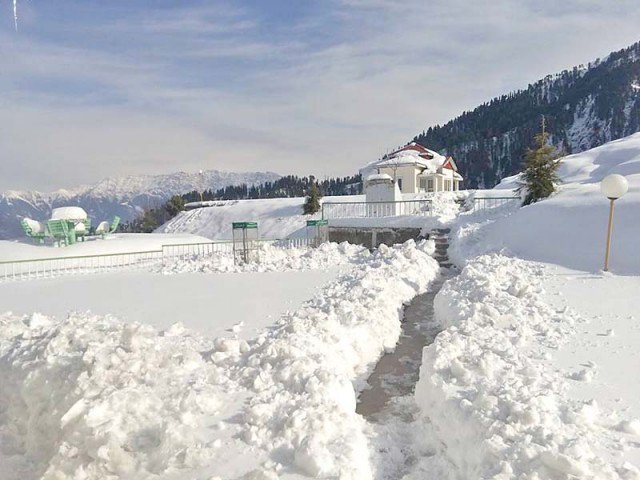 Murree is blanketed with white sheets of snow this season. Amid the new spell of snowfall, the markets and streets have come to life in Murree as people from different parts of the country started thronging to the area.
"The tourist inflow is likely to increase as visitors would visit key tourist spots after snowfall and the weekend will prove a boon for the hotel industry," said tourist visiting in Murree.
"The snow fall has delighted me because I came from Lahore to enjoy it," said Ahmad Raza a tourist.
Another tourist Hina Zia with her family was of the view that though the intense snowfall had made it difficult for them to move their vehicles on the road she was enjoying the weather.
She further said that she along with her family had arrived at the hill station from Wazirabad to enjoy weekend.
"People coming to enjoy the snow are advised to keep their tanks full," he said while pointing to the long queue of stationary cars. He further urged visitors to bring proper winter gear including warm clothes and shoes. "Please don't wear heels or dress shoes with leather soles."
A tourist Bushra Fakhar talking to private news channel said, it is blessing in the month of March that the country is still receiving more rains and snowfall and the current spell of snowfall has transformed Pakistan's northern region into a winter wonderland.
"It is amazing to see some of the best colours of nature here. I had never imagined that I would be witnessing snowfall like this in my life," said Haris Shoaib, a tourist.
The enthusiastic tourists built snowmen and threw snowballs at each other. Some were posing for photographs and others were busy in taking selfies.
On the other hand, the weather sparked excitement through social media where people shared hundreds of photos and videos of snow-blanketed towns.
Another visitor said people out on the streets of Murree enjoyed food in the cold, amid snow topped trees and shops, cap their meals. They enjoyed their food with coffee and Kashmiri or green tea.
To facilitate tourists, police have also devised a comprehensive traffic plan, issued traffic advisories, and announced a helpline while constantly rescuing vehicles stuck in snow, said Chief Traffic Officer Rawalpindi.
Police also advised drivers to be extra careful while taking pictures.
The Motorway Police requested people to avoid unnecessary traveling due to heavy fog and low visibility.–APP