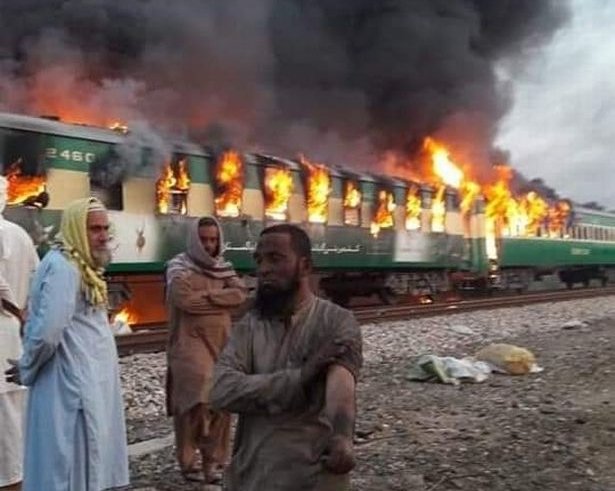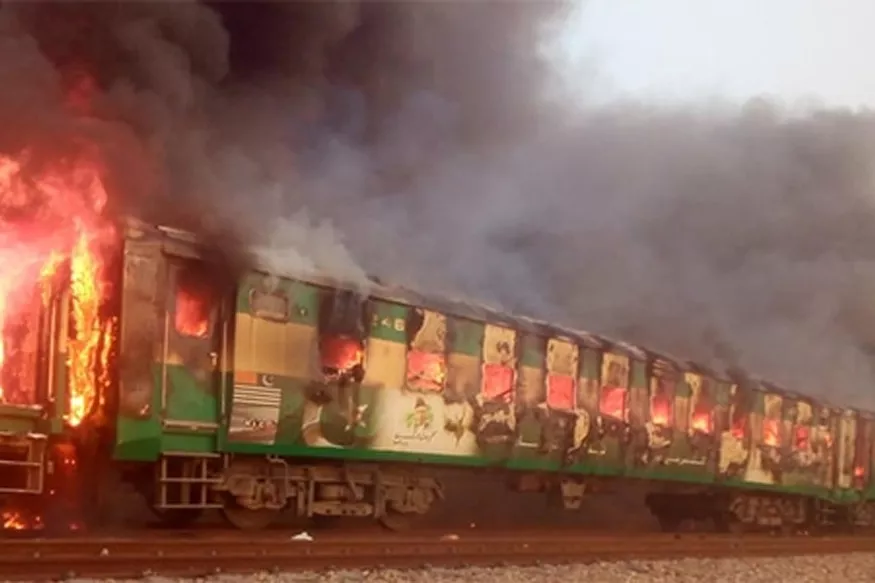 Most passengers died trying to jump off moving train to escape blaze in Rahim yar Khan, say officials
News Desk
Islamabad: At least 72 people were killed in southern Punjab on Thursday morning after a cooking stove being used on a train exploded, officials said. Witnesses said that some desperate passengers began jumping off the burning train while it was still moving.
Tezgam Express was on its run from Karachi to Rawalpindi when three carriages caught fire around 6:30am near a railway station at Liaqatpur, southern Punjab.
At least 40 people were reported to have been injured. Most people died while trying to jump off the moving train, according to the railways minister Sheikh Rashid Ahmed.
Mansoor Ahmed, the assistant commissioner of the nearby city of Multan, confirmed the death toll stood at 70 so far, with more than 40 injured, many critically.
Nine people were airlifted to the burns unit at Multan district hospital.
Local hospitals struggled to cope with the scale of the blaze. The AC confirmed the Rahim Yar Khan District hospital was unable to accommodate the number of casualties, so several had to be taken to Multan district hospital, which is about three hours away.
Officials said some passengers had been preparing breakfast aboard the train, illegally when the gas cylinder fueling the stove exploded. The resulting fire quickly engulfed three carriages — two economy-class and one business-class — full of passengers.
Footage broadcast on Geo TV showed a blaze ripping through the carriages, with flames licking out of the windows and sending black smoke billowing into the sky.
Crowds gathered around the dramatic scene, as firefighters, paramedics, and soldiers responded.
An army helicopter was flown to the site from the city Multan to evacuate those who were critically injured, according to the ISPR, a media wing of the army.
Prime Minister Imran Khan said that he had ordered the launch of an immediate inquiry to find out the causes to be "completed on an urgent basis."
"This is a terrible accident and we mourn those who have died," said Sheikh Rasheed, adding that the families of the dead and injured would receive compensation of Rs1.5 million and Rs500,000 respectively from the ministry.
Taimoor, a police officer, said that many of the people on board the train were heading to Islamabad to join JUI-F protest.
Uzma Bibi was on the train with 17 family members on their way to a wedding in the city of Lahore. They heard an explosion, she said, and looked out the windows to see flames starting to billow out from nearby carriage.
"There was panic, and everyone started shouting," she said. "Seven people in our carriage jumped off to save their lives."
Batool Fatima, a 25-year-old student, said that one thing making the panic worse was that the train's emergency brake didn't seem to work. "They tried to stop the train by pulling the emergency rope, but the train didn't stop immediately."
Muhammad Tariq, who was injured along with his family members when they jumped from the train, said: "People started frantically screaming and shouting. They were begging for the train to stop. Train speed further fanned the fire."
He added: "Had the train stopped immediately, the death toll would have been less."
Officials said 11 people who had been severely burned were flown to a hospital in a nearby city, Multan, on a military helicopter.
Many passengers in the economy boggy belonged to Tablighi Jamaat, an Islamic evangelical group, and were traveling to attend an annual congregation of the fraternity at Raiwind near Lahore.
Members of the group typically camp for several days during the assembly and bring food, bedding and cooking implements.
Sheikh Rashid Ahmed told reporters in Multan that members of the Tableeghi group had used gas stoves on the train, despite having been told not to by a guard.
Local news media quoted one passenger, who identified himself as a member of Tablighi Jamaat, as saying that a short circuit in a fan was to blame for the fire, not a cooking stove. His account could not be independently verified.
Accidents have become frequent on Pakistan Railways, and accusations of poor maintenance, corruption and lax safety standards have intensified.
At least 80 accidents were reported between July 2018 and July 2019. At least 23 people were killed and 85 were wounded on July 11 this year when a passenger train collided with a freight train near Sadiqabad. On June 20, a passenger train collided with a freight train in Hyderabad, resulting in the death of the driver and an assistant driver.
On Thursday, the minister initially insisted that the rail system was not to blame for the deaths. "It is not the fault of Pakistan Railways," he said. "The passengers are responsible for this."
He later acknowledged, however, that the failure to enforce safety measures, like the ban on cooking by passengers, amounted to negligence.