Fireworks explode over a mountain in the Iraqi Kurdish town of Akra during Newroz celebrations
Erdogan's regime refuses entry to two French Communist Party members who planned to observe the local elections on March 31
News Desk
Turkish authorities have escalated attacks on political opponents ahead of next week's crucial local elections, refusing entry to two French Communist Party members and deporting them on Thursday.
Sylvie Jan and Michel Laurent arrived to attend the Newroz festival in the Kurdish city of Diyarbakir in south-eastern Turkey and were also planning to observe the local elections on March 31.
However, they were reportedly held at a detention centre on arrival in Istanbul on Wednesday (March 20) before being put on a plane back to France this morning.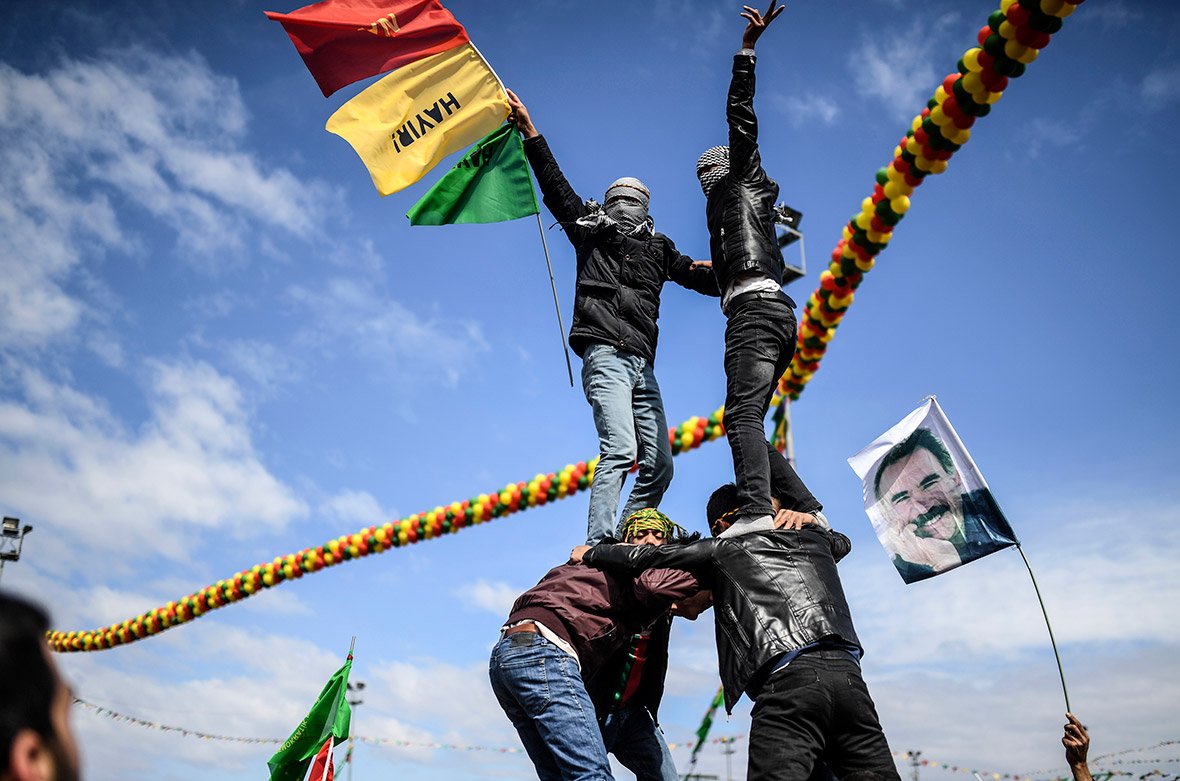 Police justified the decision to bar them from Turkey by citing article 6458 of the Foreigners and International Protection Law, which allows local governors to prevent foreign nationals from entering the country on public safety grounds.
Turkish authorities routinely detain foreign nationals acting as election observers.
During last year's snap presidential and parliamentary elections, at least 17 international observers, including delegations from France, Germany and Italy, were detained.
They were accused of interfering with the democratic process in Turkey and acting as election observers without proper accreditation in the largely Kurdish south-east.
However, it is not just politicians and activists who have been threatened by the government.
Speaking at an election rally earlier this month, Interior Minister Suleyman Soylu threatened to arrest foreign tourists if they criticise President Recep Tayyip Erdogan's increasingly authoritarian regime.
"In Germany, in Europe, there are those who attend terrorist organisation events then go on holiday in Antalya, Bodrum and Mugla," he told a crowd in Sakayra.
"Let them come and go to prison directly from the airport," he warned. "From now on it won't be easy to commit treason abroad then come to Turkey for fun and good times."
Mr Erdogan has sought to silence all forms of opposition. Turkey has jailed more journalists than any other country and thousands of academics have been sacked after signing a petition calling for a peace settlement with the Kurdistan Workers Party.
MPs of the opposition People's Democratic Party (HDP) are in prison facing lengthy sentences and thousands of its activists have been arrested.
The party hope to win back scores of municipalities across the south-east that have taken over by government-appointed administrators after HDP mayors were arrested and imprisoned.
However, their efforts are being hampered by the authorities, with Mr Erdogan branding the HDP a terrorist organisation linked to the outlawed PKK.
It was announced yesterday that party co-chair Sezai Temelli is being investigated on suspicions of spreading "terrorist propaganda" after a campaign speech in which he allegedly praised jailed PKK leader Abdullah Ocalan.–Courtesy Morning Star, London