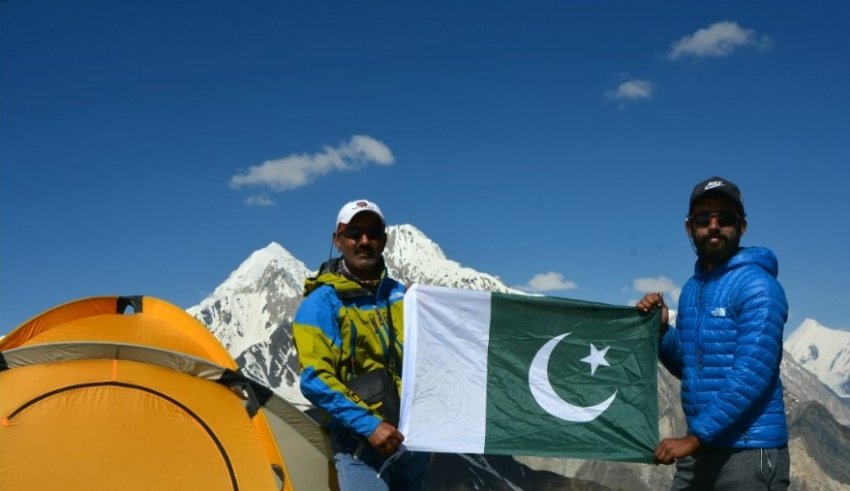 Qudrat Ali (L) and Saad Munawar holding Pakistani flag on a basecamp
Qudrat Ali and Saad Munawar traverse 665km through Himalays, Karakoram and Hindu Kush ranges in 23 days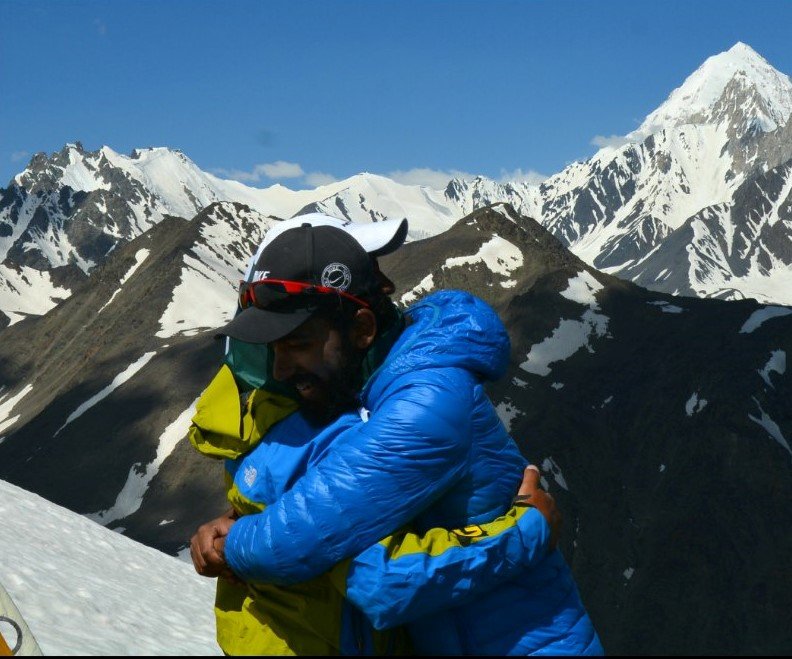 Islamabad July 18: Two Pakistani climbers have set a new world record by completing traverse of three mountain ranges in Gilgit-Baltistan and Chitral.
Qudrat Ali, a famous climber from Shimshal valley in upper Hunza and Saad Munawar, a student from National University of Science and Technology (NUST), Rawalpindi, completed the expedition on Wednesday in 23 days trekking 665 kilometers in Himalaya, Karakoram and Hindukush mountain ranges.
"Today with great respect, humility, love and passion we have achieved our record target of traversing through all three highest mountain ranges of the world," says an announcement posted on the Facebook page of Qudrat Ali.
"We introduced a new route to traverse through Himalaya, Karakoram and Hindukush without using any vehicle or transport throughout the route, connecting three base camps above 7,000 meters altitude at Nanga Parbat (Himalaya), Rakaposhi (Karakoram) and Tirchmir (Hindukush), trekking 665km in 23 days surpassing world record of 500km traverse in 30 days" the post read.
They have submitted an application for Guinness Official World Record which has initially been accepted by adding a new record title in Guinness database. However, it will take 12 weeks for the experts to verify the traverse as per their rules and regulations.
The duo established a new base camp in front of the East Face of Tirchmir at 4,550-meter height which is higher than the usual Babu basecamp and offers much better views of the mountain.
"We have decided to dedicate and name this camp after our beloved friend Imtiyaz bhai," the announcement added.
Imtiyaz Ahmed from Shimshal lost his life when an avalanche at Melvin Jones peak in Ishkoman valley hit him on June 17. He was part of a seven-member Italian expedition team including his younger sister Shakeela and cousin Nadeema on the 5,800m Melvin Jones Peak. He was the only bread earner of his family.
"His four young children need our help to get quality education and make a life for themselves and their family. We would like to take this opportunity to call out to anyone and everyone who can help Imtiyaz bhai's children get quality education," the two climbers urged
"I have spent my whole life in mountain expeditions, working mostly with foreign mountaineers. But this was my first ever joint expedition with a Pakistani mountaineer — Saad Munawar," commented Mr Ali.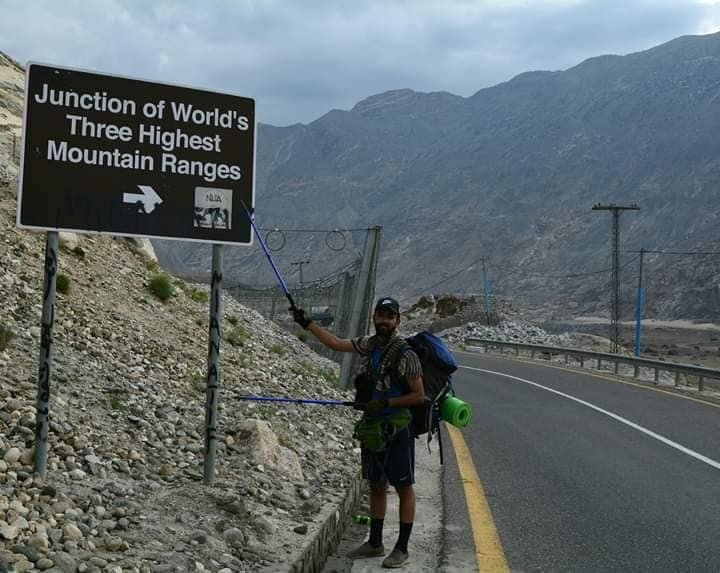 "I am very happy and fully satisfied that I chose Saad as my partner. I have observed him very closely throughout our expedition and I can confidently say that he has the physical, mental strength to overcome any kind of difficult situation," he complimented.
Given his extraordinary mental and physical strength, I have given him the title of "Rawalpindi Mountain Express".
He hoped that Saad will make me, his family and our country proud in the years to come.
The two climbers will reach at Islamabad on 19th July
Average distance, traversed 29km/day with maximum distance of 55km/day and minimum 12km/day and average speed 5.5km per hour. They reached highest altitude at 4,700meters.
We had to bear half of the expenses of the project ourselves and the rest was sponsored by The Travel Diary (TTD), one of the finest and biggest travel forums in Pakistan, 93 Travelers and Tour Planners, a government registered tour planning company and NUST.