HAH Special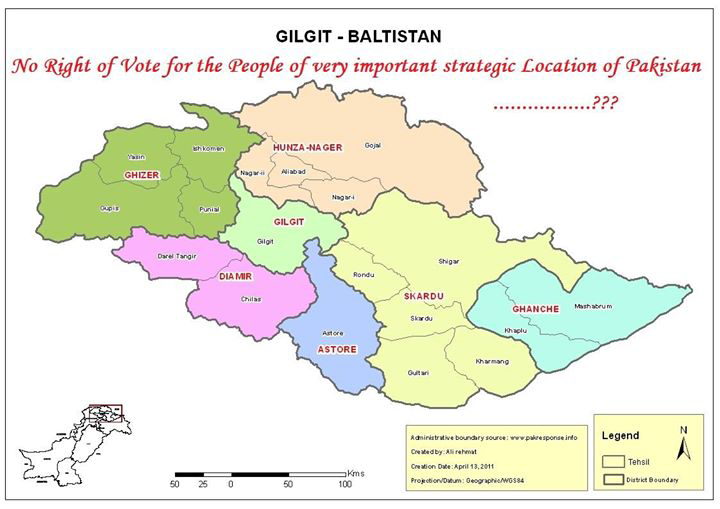 Islamabad:  Amid strong protests from the indigenous people over the much-touted Gilgit-Baltistan Order 2018 that was unveiled by former Prime Minister in the Gilgit-Baltistan Assembly last month, a UN human rights watchdog has highlighted violation of fundamental rights in G-B, including the restriction on freedom of expression, misuse of anti-terror laws against political and social activists.
Residents of G-B "do not enjoy all the rights and protections available to those under the Pakistan Constitution," says the report on the "Situation of Human Rights in Kashmir: Developments in the Indian State of Jammu and Kashmir from June 2016 to April 2018, and General Human Rights Concerns in Azad Jammu and Kashmir and Gilgit-Baltistan," released by the Office of the United Nations High Commissioner on Human Rights (OHCHR) on Friday.
Misuse of ATA
There has been "rampant misuse" of Anti-Terrorism Act (ATA) by G-B authorities particularly against young activists that has increased after the introduction of Pakistan's National Action Plan for countering terrorism and extremism in December 2014.
It also raised concerns about the extensive jurisdiction of anti-terrorism courts and the absence of procedural safeguards in their proceedings. The Committee against Torture noted that the ATA "eliminates legal safeguards against torture that are otherwise provided to persons deprived of their liberty."
Several political activists, especially from the Awami Workers Party (AWP), have been arrested and charged under the ATA for raising voice for the rights of the people and for protesting the acquisition of their lands for a project without receiving any resettlement or compensation.
Prominent political activist Baba Jan was arrested in 2011 and charged with 11 other protesters and sentenced to life imprisonment under the ATA  by an anti-terrorism court for their environmental [and political] activism.
Section 11-EE of the ATA, commonly known as the "Scheduled Four", is meant to be used against "proscribed organizations" not directly involved in terrorism but suspected of sectarian violence. However, in G-B, the Scheduled Four has been used for surveillance of youth activists, human rights defenders and political workers. In 2016, media reported that around 140 people from G-B had been placed under the Scheduled Four to avoid any protests.
Constitutional, legal lacunas
According to an international NGO, federal government and its intelligence agencies have "considerable powers over local elected representatives and officials".
Restrictions on the freedoms of expression, opinion, peaceful assembly and association in Gilgit-Baltistan have limited the ability of observers, including OHCHR, to assess the human rights situation there.
Despite the announcement of governance orders, and pseudo provincial setup, GB was neither incorporated into Pakistan nor given notional autonomy like AJK, although the Supreme Court of Pakistan in 1999 had directed Islamabad to extend fundamental freedoms to the region within six months.
The Committee on the Elimination of Racial Discrimination noted with concern that Pakistani laws are not applicable in GB to the same extent as in the other parts of the territory. In fact, Pakistan's prime minister, the federal minister for Kashmir Affairs and Gilgit-Baltistan and the bureaucracy have full control over all government operations in G-B.
Superior courts cannot annul laws that violate fundamental rights, unlike in Pakistan. The governance order does not guarantee the right to a fair trial, protection against double punishment and self-incrimination, right to information and right to education, the dignity of a person, and residents of G-B are not guaranteed the right to preserve their language, script or culture, the report noted.
Political leaders who are seen to be opposing Pakistani rule have been subject to surveillance, harassment, and even imprisonment, the report stated.
 Violations of land rights
The UN rights watchdog says it has received information that people in G-B have complained of not being properly informed or consulted on decisions affecting them and their livelihoods.
G-B authorities had forcibly evicted locals in Maqpoon Das area and allocated the same land to state authorities for the China Pakistan Economic Corridor (CPEC) without any compensation or relocation.
The GB authorities under the garb of 'land reforms and settlement' has started grabbing of collective land of indigenous people in various district forcibly that has triggered strong protests in Baltistan, Gilgit, Ghizer and Hunza districts.
The UN body has asked the Pakistan Government to end the misuse of anti-terror legislation to persecute those engaging in peaceful political and civil activities and expressions of dissent and amend the ATA to bring it in line with international human rights standards, including by incorporating human rights safeguards.
Immediately release from prison or house arrest any political activists, journalists and other civil society actors who have been convicted for peacefully expressing their opinions.