News Desk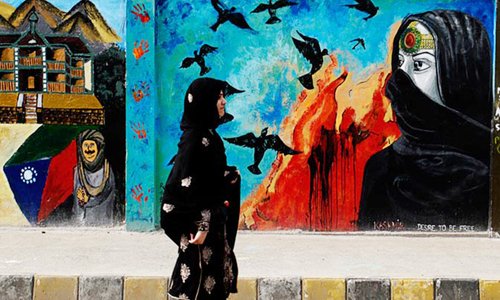 JAMSHORO: Women's rights activists turned up in large numbers on Saturday at a talk on 'Redefining consent' as feminists discussed what "consent" meant on the part of women and that it needed to be redefined considering the fact that it was usually a woman's powerlessness that was taken as her "consent" by tormentors.
Women's rights activist and writers, including Arfana Mallah and Nazish Brohi, discussed "consent" with celebrated author Mohammed Hanif at Lahooti Melo 2019: An ode to a librated woman, which was jointly inaugurated by Sindh Minister for Education, Culture, Tourism and Achieves Syed Sardar Ali Shah along with Mehtab Akbar Rashdi.
Sharing the stage on the 'Power, pleasure, patriarchy: redefining consent' session on Sindh University's Hyder Bux Jatoi ground, SU teacher and Woman Action Forum activist Arfana Mallah discussed situations where a powerful employer or teacher and powerless student or employee was involved.
"Consent itself has become a big stereotype after gender in our society," she said.
The much-talked about 'hansi tu phansi' phrase couldn't be taken as consent, she added.
Agreeing with co-panellist Nazish Brohi over her definition of consent between two contracting parties, Mallah said that consent between a teacher and student or between an employer or an employee was a huge dilemma as far as sexual harassment cases were concerned.
"It is an unequal relationship because a student or employee can't resist as factors of 'fear, marks and respect' remain at work in such cases", she said.
It is as simple as that there couldn't be any consent between an adult and minor, she said and added that "student's marks and employee's career were linked with their teacher and employer respectively".
She observed that this was something being confronted by harassment cases committees in higher education institutions and these people need to understand this issue.
"We must redefine consent considering a sense of disempowerment of women", she said.
Nazish Brohi said that society would have to understand and value women's sentiments. She added that between two parties consent had some other meaning for one of them.
Novelist Mohammed Hanif said that it was hard to effect change in men's thinking because men never change their psyche, so expecting them to learn something would be funny.
He told the audience that in the typical Pakistani mindset, men of earlier generations had never come across a woman before their marriages. He said today's students were lucky that they chat with their classmates in co-education system and this would perhaps change their thinking and such gatherings might prove to be a catalyst.
Mehtab Akbar Rashidi told moderator Ayesha Gazdar that it would still take time to talk about "marital rape".
She regretted that even women legislators in elected houses confronted sentences having double entendre.
She said that situation demanded that things should be taken quite seriously now by addressing complaints of sexual harassment.
At inaugural session Syed Sardar Shah said: "Woman is God's most beautiful creation and Sindh has unique distinction of producing Shah Abdul Latif Bhitai, who was the greatest exponent of women liberation and empowerment."
VC Dr Fateh Mohammad Burfat said that Pakistan could not progress unless women were educated.
Dr Fauzia Saeed said that it was painful to say that most media houses had not yet complied with requirements of sexual harassment laws.
Humna Zubair, head of an online cultural outlet along with film director Jamshed Mahmood Raza discussed their take on the Meesha Shafi and Ali Zafar episode moderated by Rahma Mian.
this story was first published in Dawn, February 10th, 2019.