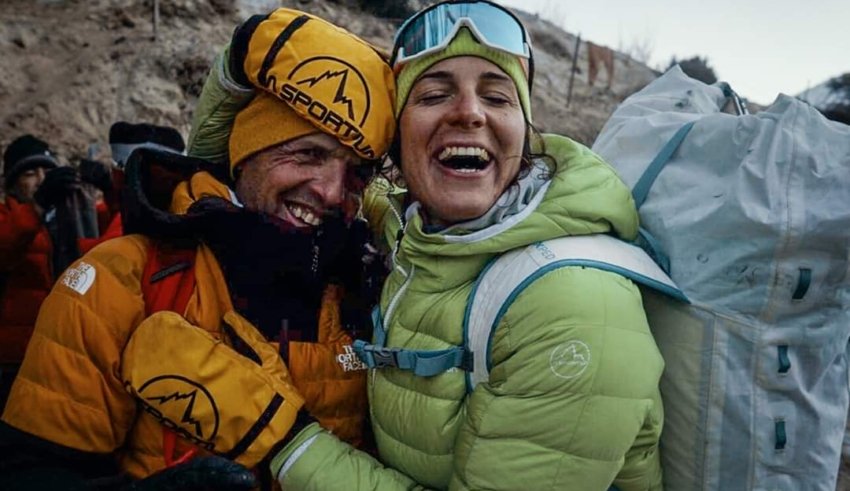 ---
Simone Moro and his partner Tamara Lunger call off a plan to scale Gasherbrum I and II after injuries
High Asia Herald Special
Two renowned Italian climbers have called off their expedition to the hugely difficult to traverse Gasherbrum I and II in the Karakoram mountain ranges in Gilgit-Baltistan, after a near-fatal fall into a crevasse, according to media reports.
Simone Moro and Tamara Lunger, the climbing couple, ended their attempt to scale the 8,035-meter (26,362 feet) GI, the 13th highest peak and the 80,80m (26,059 feet) GII, 11th in ranking among the highest peaks after spending 10 excruciating days negotiating a route through the labyrinth of crevasses and seracs above the Base Camp.
According to a report published on the mountainplanent.com website, they were ascending to camp 1 when Moro suddenly fell into a crevasse on Sunday. Only reflexes, skill and luck saved them, as Moro recounts on his Facebook page reports, the website said.
The Italian couple had launched the winter expedition on December 25, 2019.
Simone and Tamara had a close call with an avalanche last week, but this time, the Italian winter maestro only survived thanks to his partner's quick response.
"We really came just a breath away from a tragic and disastrous epilogue for both Tamara and me," Moro wrote on his Facebook page.
The pair roped up and set off toward Camp 1 for two nights.
"We were finally out of the icefall, we had passed the last big crevasse and proceeded to the summit plateau. Always tied up because we knew that the crevasses were always lurking and antennas were always straight but the morale was high and the satisfaction of having overcome everything. The big ice maze. But the day was not over and what lay ahead was terrible", he wrote.
"Approaching a crevasse I put myself in position as always to secure Tamara who first crossed it and then moved into the safe zone, 20 meters beyond the crevasse."
Then it was my turn and after a split second, a chasm opened under my feet and I fell. Tamara suffered such a violent tear that she literally flew to the edge of the crevasse while I free falling upside down for 20 meters banging back legs and buttocks on the blades of ice suspended in the endless gut where I continued to descend. No more than 50cm wide, in complete darkness, he narrated.
Above Tamara had the rope wrapped around her hand and held it like a vice and caused her excruciating pain and numbness. I was in the dark and she was slowly sliding down the edge of the crevasse.
All complicated by the fact that she had snowshoes on her feet. I managed with one hand to put a very precarious first anchorage and, while feeling myself slowly descending towards the abyss, I had the lucidity to take the ice screw I had in my harness and secure it in the smooth and hard wall of the crevasse. That screw stopped me from slipping and probably pulling down Tamara into the crevasse.
Almost two excruciating hours later, Moro managed to climb out of the 50cm-wide but otherwise near-bottomless crevasse. "While I was climbing, Tamara, crying with pain, managed to organize a nice [anchor] to secure me while I was climbing the 20 endless meters of smooth ice," the internationally acclaimed mountaineer.
"Shivering and with a thousand bruises, I hugged Tamara who was also crying from the pain in her hand," narrated Moro.
Somehow, they had the energy to make it back to Base Camp that night. On Monday morning, the climbing duo was evacuated to Skardu by army helicopters for medical checks as the pains were obviously stronger and Tamara's hand was partially numb out of use.
"Winter is not a game for those who dare more but for those who have more patience and wisdom," added Moro, known as 'maestro of winter' for climbing three other 8,000m peaks in the harshest season.
Coincidentally, on January 19 marked the anniversary of the first winter ascent of Shishapangma, in Nepal, which he did back in 2005.
Moro, 52 and Lunger, 33 began their bid to scale the Gasherbrum peaks on December 29, 2019. They had planned to traverse the two peaks in a single push via the Gasherbrum La at 6,400 meters.
Moro's team who wrote the post on his behalf, signed off with the hashtag #neverstopexploring, indicating that the pair will make another bid in the near future. Courtesy: mountainpplanet.com