PPAF is implementing Building Resilience to Disasters & Climate Change (BRDCC) project in eight districts across the country. Photo: PPAF
---
---
As the world is reeling from the impacts of the pandemic that has devastated economies and killed millions, global leaders, heads of governments, scientists, and civil society activists are scrambling to find ways to protect Mother Nature, lives and livelihoods by reducing emissions to zero level.
They will meet at the 26th UN Climate Change Conference of the Parties (COP26) in Britain's Glasgow city on 31 October – 12 November 2021 to expedite action towards the goals of the Paris Agreement and the UN Framework Convention on Climate Change.
Global warming would have severe impacts on people and nature. A third of the world's population, especially in South Asian countries would be exposed to severe heat leading to health problems and heat-related deaths. Torrential rains, drought, cyclones, erratic weather patterns, and sea-level rise are among some of the consequences of climate change the world is experiencing.
While the world is busy finding ways and evolving strategies to reducing greenhouse gases emissions, the impacts of climate change are getting increasingly visible with devastating effects on the communities. The situation is no different for Pakistan which is ranked amongst the countries that are most prone to disasters, especially the disasters linked to climate change. According to Pakistan's Disaster Management Reference Handbook 2021, Pakistan ranks eighth for countries most affected by extreme weather events between 2000 and 2019.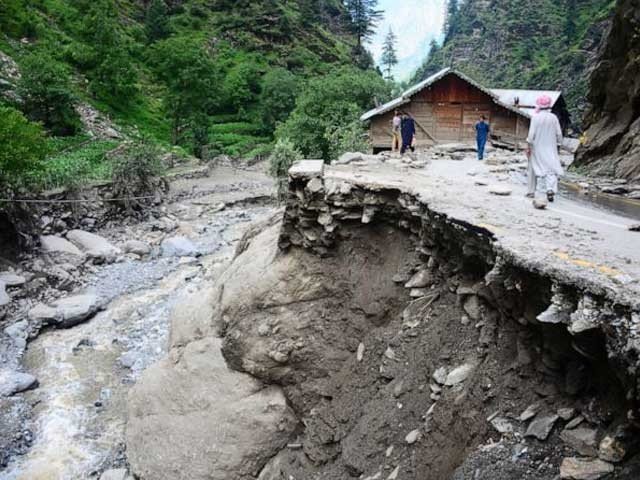 ---
The fast-melting glaciers, seasonal floods, flash floods, heatwaves, droughts, and the intrusion of seawater in the coastal areas in Pakistan are severely impacting the lives and livelihoods of people across Pakistan hampering their socio-economic development. The International Day for Disaster Risk Reduction (IDDRR), marked on 13 October every year, thus provides an opportunity to countries across the world to assess the global commitment toward climate mitigation and adaptation and check progress to answer the urgent need of protecting vulnerable communities.
The theme of IDDRR this year is 'International cooperation for developing countries to reduce their disaster risk and disaster losses,' which is linked to the target 6 of Sendai Framework for Disaster Risk Reduction 2015-2030. The Framework adopted at the Third UN World Conference in Sendai, Japan, on March 18, 2015-16, presents the seven global targets for measuring progress on reducing disaster risk and losses. Substantially reducing global disaster mortality and the number of people globally affected, reducing direct disaster economic loss about global gross domestic product (GDP) and substantially increasing the availability of and access to multi-hazard early warning systems and disaster risk information and assessments to people are some of the targets that are to be achieved by 2030.
In the pursual of the aforementioned targets, Pakistan Poverty Alleviation Fund (PPAF) is implementing Building Resilience to Disasters & Climate Change (BRDCC) Project. Co-financed by the National Disaster Risk Management Fund (NDRMF), the Project aims at strengthening the readiness of the communities through establishing an institutional framework to mobilize and organise communities, understand their specific vulnerabilities to natural hazards and design structural and non-structural measures to reduce and mitigate such risks. PPAF is implementing the Project in eight disaster-prone districts across the country, namely, Nasirabad (Balochistan), Multan (Punjab), Shangla, Swabi (Khyber Pakhtunkhwa), Dadu, Jamshoro, Naushero Feroze (Sindh) and Skardu (Gilgit-Baltistan) through its partner organizations.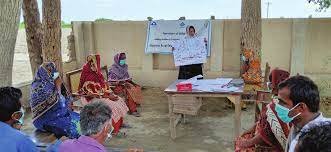 ---
The Project focuses on raising awareness of the vulnerable communities at the village level by sensitizing them on climate change and associated hazards to enable them to identify their susceptibilities and design a plan outlying the support and resources required for addressing them. The Village Disaster Management Committees (VDMCs) then take charge of implementation while Operation and Maintenance (O&M) Committees play their role in the smooth functioning of the Project.
In addition, structural measures to cope with the natural disaster, more specifically floods have been taken involving the construction of flood protection structures, of various types such as plum concrete, stone masonry, and earthen embankment, etc., further, to build the resilience of communities. Specialized O&M and VDMCs training events are designed for both male and female community members to enable them to take responsibility for completed interventions. The interventions under BRDCC are expected to benefit a vulnerable population of 206,400 persons and protect cultivable land of around 4,000 hectares from flash floods and rainwater erosion.
---
Likewise, with the support of KfW (German Development Bank), PPAF has worked on building preparedness of communities in six districts of Khyber Pakhtunkhwa, namely Nowshera, Haripur, Swabi, Buner, D.I. Khan and Charsadda. The program helped in preventing the potential losses caused by natural hazards through the formation of 164 Village Disaster Mitigation Committees and the construction of 26 disaster mitigation structures.
Following an inclusive approach, PPAF has ensured women's participation in all preparedness and disaster risk reduction activities, from designing and preparation of village disaster management plans to community awareness on DRR, resource mobilization for repair and maintenance of disaster-resilient structures. As a key aspect of the project, it is expected that the success in building the resilience of communities in target districts could provide an effective DRR model to replicate in other parts of the country leading to a more disaster-resilient Pakistan.
Shafqat Aziz is an Islamabad-based communication professional. He contributes essays to national dailies including High Asia Herald