Pakistani leftwing working-class women organized rallies in Islamabad, Lahore and Karachi for equal space, rights and against patriarchy, exploitation and religious extremism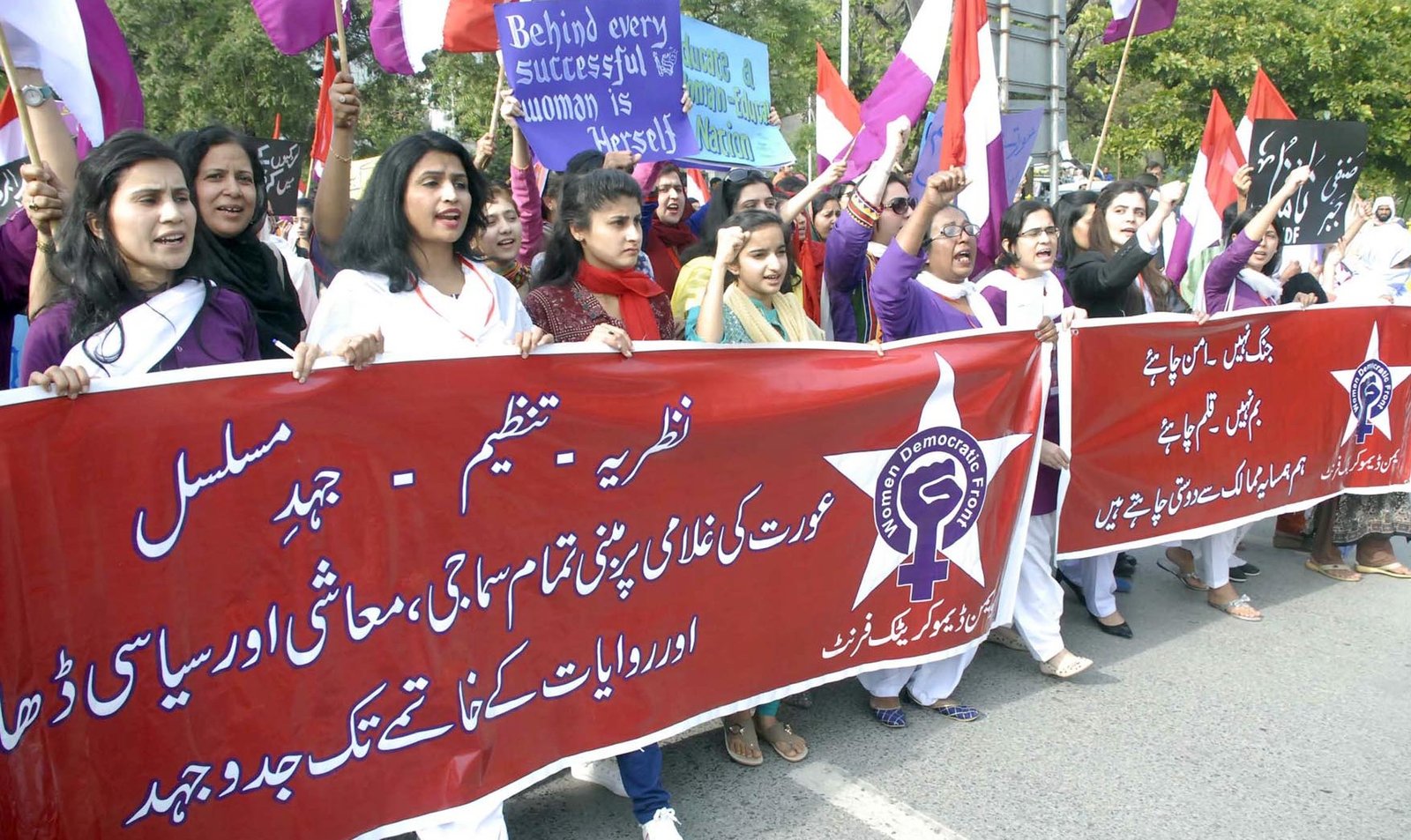 HAH Special Report
Islamabad
Women organizations around the world mobilised Thursday to celebrate International Women's Day with Pakistani activists mostly socialist and working-class organisations marching in Islamabad, Lahore, and Karachi against rising violence, capitalism, feudal and tribal customs, patriarchy, rising tide of religious extremism and oppression on marginalized people and nations on peripheries. They demanded equal space, rights and opportunities in all spheres of life.
Women Democratic Front (WDF), a new socialist-feminist organisation, was launched at the National Press Club on Thursday.
Hundreds of delegates from Balochistan, Sindh, Khyber-Pakhtunkhwa and Punjab gathered at the first congress which elected Ismat Shahjahan as its president and Alya Bakhshal general secretary.
The delegates passed the front's manifesto and constitution envisaging a broad-based struggle against patriarchy, capitalism, national oppression, religious fascism and authoritarian political system.
Hundreds of working women, political activists, students and intellectuals gathered on the occasion to give the Pakistani women's movement a new lease on life.
Women rights campaigner Dr Farzana Bari, who was the guest of honour, took the oath of commitment from the office-bearers.
She expressed the hope that WDF would work together with workers, students and peasant movements for the rights of the oppressed nations to forge a genuine progressive alternative to the pro-establishment status quo political parties.
The newly-elected WDF President Ismat Shahjahan said that Pakistan is currently going through a critical period where right-wing extremism is on the rise, marginalised communities and nations on the peripheries are facing worst kind of state oppression; working class is subjected to economic and social exploitation, and forced into contractual or part-time jobs to become migrant labourer or face unemployment.
Addressing the delegates, Alya Bakhshal said the state ideology, structures, laws and policies were all based on patriarchal principles, on gender inequality, discrimination and violence in which women have been rendered as second class citizens and keep them in a state of virtual slavery.
Awami Workers Party President Fanoos Gujjar also spoke on the occasion and appreciated the efforts of the party's activists in organizing women on WDF platform. He extended his party's support to the front.
After the congress, the participants took out a 'Women's Freedom March' from the National Press Club to Nazimudin Road chanting slogans against violence, anti-women feudal and tribal customs, traditions and norms, exploitation of working-class women and girls.
Pakistan People's Party Senator Sherry Rehman and PPP women activists also joined the rally to express solidarity with the WDF.
In the congress a resolution was passed to condemn the rising violence against women and young girls, the brutal murder of a 12-year-old girl after rape at Mairabadi, a suburb of Islamabad, last night.
A delegation of transgender persons also joined the march and pledged to fight social discrimination.
A number of working-class organisations and parties including the Women's Action Forum, Young Teachers Association, Home-Based Women Workers Union as well as the AWP, Awami Jamhoori Party, Girls at Dhabas also attended the event, vowing to work together with the WDF to take forward both the women's movement as well as the cause of left-wing politics.
"I am proud to be part of Awami Workers' Party, the voice of the oppressed, the party which believes in equality for both men and women," said Dr Sayeed Tajik, a young activist from GB while attending the #Aurat AzaadiMarch in Islamabad on Thursday.
"Every country's story is incomplete without its women's voices. Pakistan is no different," wrote Senator Sherry Rehman on her post.
Conferences and rallies were organised by AWP in Lahore, Toba Tek Singh, Multan and Sanghar.
LAHORE
Aurat March was also organised by AWP Lahore chapter with other organizations from across the. The march commenced from Hamdard Hall, Lytton Road to Charing Cross, on the Mall after speeches at Hamdard Hall. Prominent among the speakers were AWP Punjab Vice-President Professor Salahuddin, Advocate Siddique Ghuman, Liaqat Naseer, AWP Punjab general secretary Ehtasham Akbar and others. The participants raised slogans, carried a kaleidoscope of messages and walked in unison with their heads held high and spirits higher. Special tributes were paid to Asma Jahangir for her inimitable contributions to society and vowed to carry forward her legacy. 

The march was led by AWP vice-president Abida Choudhry, Saleha Rauf and others demanding resources and dignity for women, for the transgender community, for religious minorities and for those on the economic margins but more importantly to recognise the fact that women's liberation is inherently linked with the liberation of all oppressed groups. These demands include, but are not limited to, an end to violence against women, labour rights, reproductive rights, environmental justice, anti-sexual assault laws, wage equality, fair political representation and opportunities, education equality, equality for the transgender community and an end to child marriage and honour killings. They also highlighted the struggles against land grabs/eviction of tenant farmers, ensuring food security for the masses, urban planning that centres ordinary people rather than security narratives, ending enforced disappearances.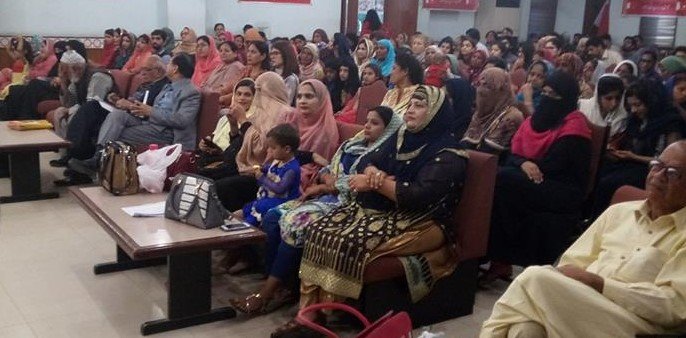 The aim of the march, according to the organizers, was to try and build a movement that centres class and gender oppression, redistribution of economic and social powers, resources so that bonded labourers, domestic workers, home-based workers, agriculture and factory and sex workers are liberated from the confines of the feudal-capitalist-patriarchal system. Where the concerns of working women, transgender women, students and those who are excluded from challenging social and economic norms and violence are heard loud and clear in political mobilization. To ensure that feminists are part of larger movements at both the local and national levels for issues such as respect for work both at home and outside, equal pay, access to affordable public transport, housing, public spaces, to clean drinking water and emancipatory education, an ecologically safe environment. "We believe that a different world is possible and this March was a step in that direction. Together we aim to be able to struggle to create a society where we can live with dignity", says a statement issued by the organisers.
KARACHI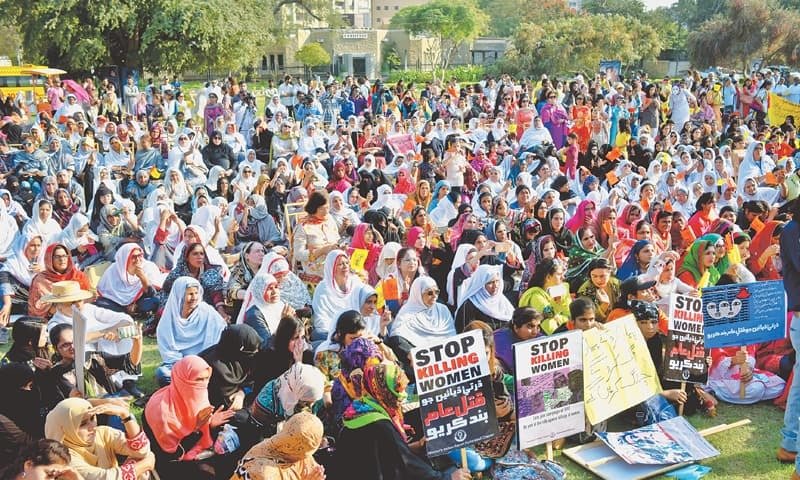 The Aurat March in Karachi attracted thousands to gather and support the cause of women empowerment and recognise their struggle through centuries.
The march in Karachi first had a variety of speeches and skits, poetry and songs at the Frere Hall after which the participants from diverse classes, ethnicities and sections of society mostly students from universities and colleges came together under the banner of 'Hum Aurtein'for a cause marched.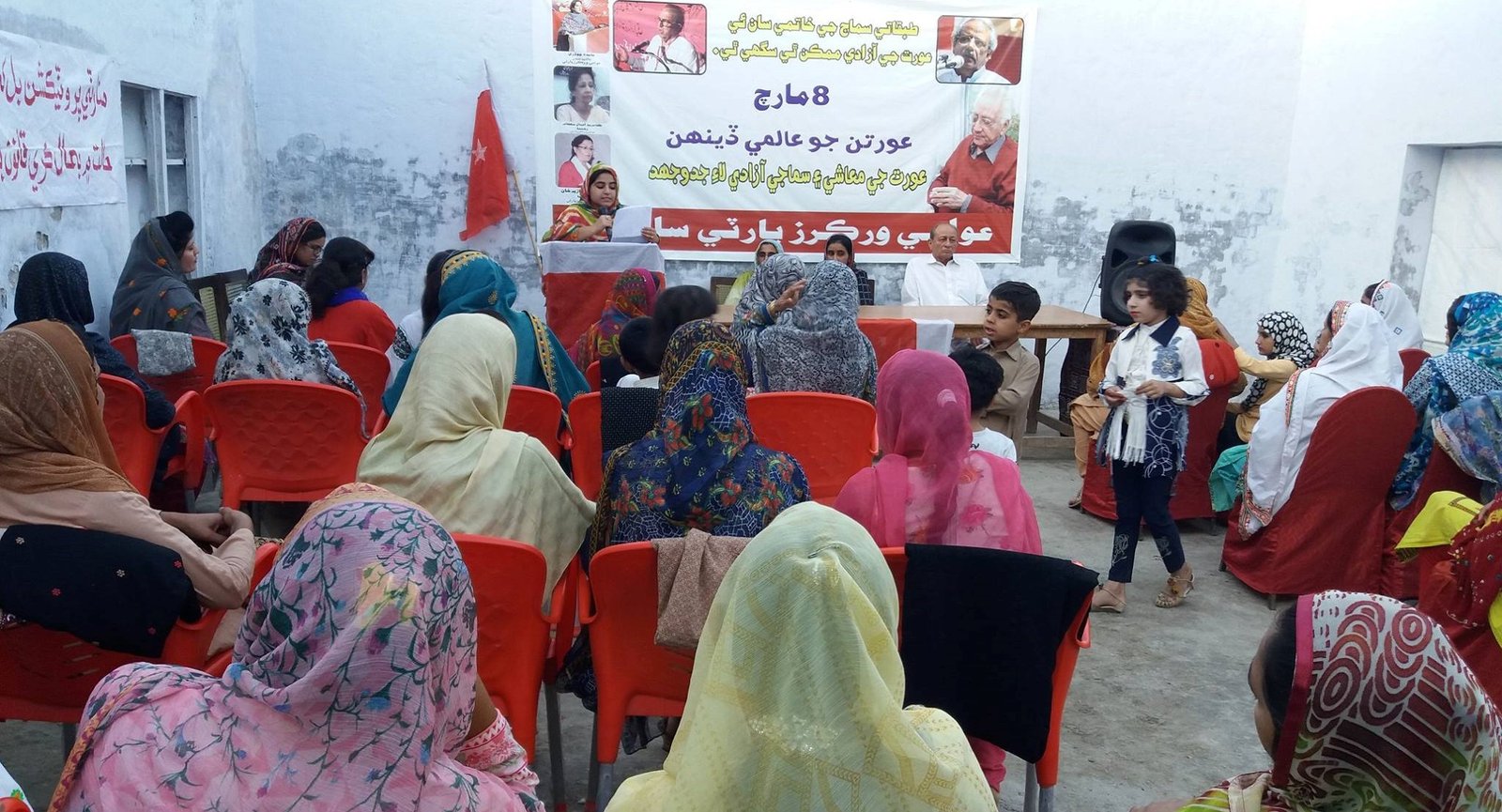 The participation of marginalised groups such community was the transgender mingled around. Representatives of lady health workers who face threats and harassment as well as economic uncertainty were also present to defend their rights. Representatives of the Dalit community raised increasing incidents of harassment and sexual abuse as well as forced conversions. Members of the Christian community raised their voice for women of all religions to be given security by the state and society.
Freedom, respect, the right to live on their own terms, an end to violence against women, economic and reproductive justice, reclaiming public spaces and making streets safe for women, were some of the demands put forward at the march.
The UN's Gender Parity report shows that in 2017, Pakistan ranks the lowest at 143 out of 144 in the world in terms of economic participation and opportunity for women.
EUROPE
Spaniards held an unprecedented strike, France threatening to "name and shame" firms that pay women less, and Iraqi women running a shortened 'marathon'.
The #MeToo and #Timesup campaigns that went global with allegations of sexual misconduct in Hollywood galvanised this year's celebrations amid surging demand from women for respect and equality.
Hundreds of trains were cancelled in Spain over the work stoppage and countless protests in defence of women's rights held across the country.
Ten unions demanded gender equality as the 24-hour strike sought to emulate Iceland's 1975 work stoppage when women took a day off to demonstrate their vital contribution to the economy and society.
Female television and radio presenters went off the air, and Spain's state TVE channel ran repeat programmes to compensate.
Some 5.3 million people took part, they said.
Name and shame
In Paris, President Emmanuel Macron pledged to "name and shame" companies that pay women less than men for the same work.
His Prime Minister Edouard Philippe had already warned Wednesday that such companies could be fined up to one percent of their wage bill.
French daily Liberation found a novel way to get a man's attention by hiking the paper's cost by 25 percent for all males. French women earn on average 25.7 percent less than men, according to a 2017 watchdog report.
German Chancellor Angela Merkel put out a video saying women should not rest on their laurels.
"The fight for equal rights continues," she said. Much remained to be done "so that women have the same rights as well as the same duties as men… we will get there."
IRAQ
In Iraq's second city Mosul, 300 women ran a symbolic marathon of 900 metres down the main street.
"With this marathon, we want to give women their place back after being kept at a distance for a long time," said organiser Fatima Khalaf.
Islamic State group fighters were bombed out of the city in July after a brutal occupation.
Some of the women carried placards saying "End the marriage of minors", "Break your silence and say 'No' ", and "I have the right to speak freely".
CAIRO
In Cairo, the Egyptian museum put on display three artefacts to highlight the role of women in antiquity. They include a red stone head of Nefertiti, the queen who held a key political and religious role alongside her husband the Pharaoh Akhenaten 3,300 years ago.
TURKEY
Thousands of Turkish women thronged central Istanbul for a demonstration on International Women's Day to demand greater rights and denounce violence.
The women chanted slogans including; "We are not silent, we are not scared, we are not obeying" and "Women are strong together".
Women's rallies were also held in Ankara and the Kurdish-majority city of Diyarbakir.
Women's activists have long accused the Islamic-rooted government under President Recep Tayyip Erdogan of not doing enough to stop violence against women.
According to the Platform to Stop the Murders of Women group, 339 women were killed in Turkey in 2017 and 76 so far this year.
Some women have also been angered by what they see as interference in their private lives by Erdogan, who has repeatedly urged women to have several children to boost the population.
Kurdish Women Movement
"We commemorate all women, who have given their lives in the quest for freedom, in the resistance against enslavement, exploitation, and occupation — from Rosa Luxemburg to Sakine Cansız, from Kittur Rani Chennamma to Berta Caceres, from Ella Baker to Henan from Raqqa, from Djamila Bouhired, from Palestinian Sana'a Mehaidli to Nadia Anjuman," wrote Kurdistan Women Movement in an article.
"We are ever grateful to the immortal warriors of the women's liberation struggle. Their light rips through the darkness imposed on us; on the path that they have illuminated before us, we march towards freedom. Along with them, we commemorate all women, who have been murdered over the course of a 5,000-year-old patriarchal order, through all sorts of male violence, wars, state terror, colonialist occupations, religiously masked powers, men's gangs, husbands, and so-called lovers. It is their memory which raises our unbreakable determination to put an end to femicide, which constitutes the longest war in the world."
End to 'manels'
With #internationalwomensday2018, trending worldwide, a new report called "An End to Manels", or all-male panels, found female speakers are outnumbered by men by three to one at Europe's top international meetings.
The survey of world leaders and businesspeople addressing top conferences over the last five years shows a "huge gender gap" with 74 percent of speakers male, the Open Society Foundations group said.
Gloomier still, the UN labour agency warned that gradual progress toward parity between the sexes in the workplace was expected to soon grind to a halt and could even reverse.
"On average around the world, women remain much less likely to participate in the labour market than men," the International Labour Organization (ILO) said.
Today, 48.5 percent of women and girls over the age of 15 are part of the global workforce — 26.5 percentage points below the rate of male participation, the report found.
Thus, for every 10 men in a job globally, only six women are employed, it said.
In Saudi Arabia, women exercised a new freedom as restrictions were relaxed under Crown Prince Mohammed bin Salman: they went jogging.
A similar run took place in Mosul, Iraq – with women runners saying they wanted to win back their rights following the brutal occupation by Islamic State which was ended in July.
A group of prominent Catholic women met in Rome to demand a greater say in Church governance. But the list of speakers angered the Church and Pope Francis has declined to attend or celebrate Mass. A former president of Ireland, Mary McAleese, described the Catholic Church as an "empire of misogyny"
Several female journalists in Ukraine started a Facebook drive called "I am not your darling", in response to President Petro Poroshenko's use of the term in a reply to a woman reporter.
French daily paper Libération raised its price on Thursday – but only for men. Women pay the standard €2, while men have to cough up another 50 cents to highlight the gender pay gap. President Emmanuel Macron also pledged to "name and shame" companies that pay women less than men for doing the same work
Prince Harry and fiancée Meghan Markle went to Millennium Point in Birmingham in the UK to encourage young women students to pursue a career in maths or sciences
Irish Health Minister Simon Harris said it was fitting the country had on this day finalised the wording for a referendum on whether to liberalise abortion
While leaders across Africa praised the role of women, the government in Ivory Coast decided to update a list of jobs that women are banned from doing. The labour laws now preclude "work that exceeds the ability and physical capacity of women, or work that presents dangers which is likely to undermine their morality, for example, working underground or in the mines".